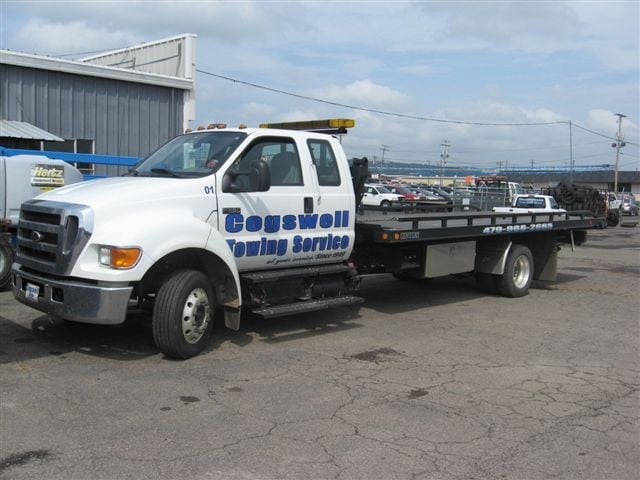 Depend on Our 24-Hour Towing Service in Russellville, AR
You find yourself broken down on the side of the highway, what do you do? Try to resolve the vehicle issue by yourself or call our reliable towing service at Cogswell Motors? We urge customers in Dardanelle to entrust their personal safety and the safety of their vehicle to us. Our towing service operates around the clock to convenience our drivers whether it's an accident, overheated engine or lack of gas that's stopped you in your tracks.
Dealing with an inoperable vehicle is no one's favorite activity, especially in the middle of a busy afternoon or the middle of the night. We put the well-being of our customers and their vehicles first at Cogswell Motors by extending assistance to those drivers who need it the most, precisely when they need it - morning, noon or night. We encourage drivers around the Clarksville area to program our towing service numbers into their cell phone sooner rather than later so when the need arises you have the right number to call.
Five Perks to the Towing Service at Cogswell Motors Near Morrilton
Our towing vehicles are not limited to towing cars like the Ford Focus, we have two sizes of wreckers that lift and haul anything from a motorcycle to a tractor-trailer.
If you're wary about your vehicle sustaining damage from being towed, we use a top-notch strapping system that ensures no scratches or dents in the process.
Whatever the reason you need your vehicle towed, you'll have a surplus of assistance once it reaches Cogswell Motors between our onsite service, parts, collision, and rental departments.
Cogswell Motors has towed since 1949 making us experts in the practice of safety transporting vehicles and providing you with peace of mind.
We also accept most motor clubs and all major credit cards, so there is one less thing to stress about in an already stressful situation.
While we wish we could prevent all accidents and breakdowns from befalling you in Conway, these things happen in every driver's journey. Instead of allowing the stress of the situation to overwhelm you, call our Cogswell Motors towing service. We promise you peace of mind by getting you and your vehicle to the maintenance or repair resource you need to get back on the road again.