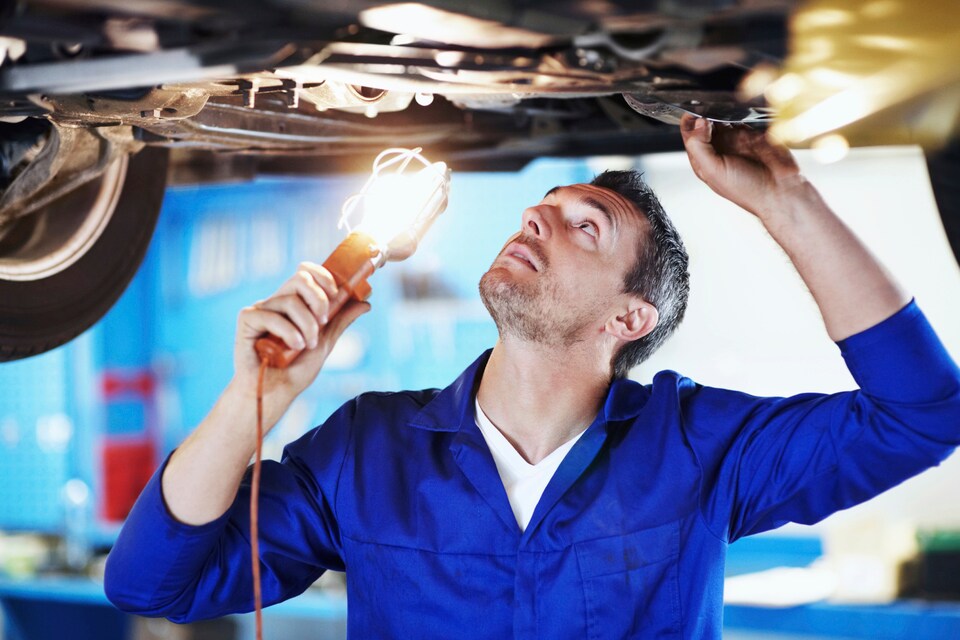 ​
When it comes to taking care of your vehicle, it's nice to have options, and it's even better to have those options all in one convenient spot. Here at Cogswell Motors, you can take advantage of a wide variety of service options to help you keep your vehicle in tip-top shape. From routine maintenance to in-depth body repair, our dealership is equipped to handle a vast spectrum of service needs!
We Cover All the Service Bases
No job is too big or too small for our team of service experts here at our dealership, so if your car is due for a quick checkup, or a mishap out on the road left your vehicle in dire need of professional repair, you can rely on our trained technicians to help you get your vehicle back up and running like new again in no time.
Quick Lane Service
Sometimes your vehicle just needs a quick spot of service to help it get back on the road and running smoothly. That's where our quick lane service comes into play. When all your vehicle needs is a swift oil change, tire rotation, or another basic routine maintenance item, our team can get you in and out fast and back to your day.
So, if you're eager to knock out a routine service item and hit the road again, we invite you to swing by for some quick lane service! Our technicians are highly trained to service Ford, Mazda, and Lincoln models as a wide variety of other makes and models, so you can count on us to pay close attention to the finer details as we get your car fixed up and ready to go.
Body Shop and Collision Center
Staying on top of routine maintenance is the best way to keep your car in excellent condition, but sometimes a rogue shopping cart, a fender bender, or some other type of collision can leave your vehicle in rough shape even if you're diligent about sticking to its service schedule. Fortunately, our collision center is here to help you restore your vehicle to its former glory after a collision.
Our collision center is equipped with over 20,000 square feet of shop space, cutting-edge tools and equipment, and a team of technicians who are highly trained and certified to perform high-quality repairs to get your car back in shape.
If your car needs cosmetic repair to fix a scratch or in-depth body repair to fix anything from dented doors to bent frames, we have your back. We'll fix up your car and take great care to make sure everything is perfect from paint color to electrical components.
You can even count on our collision center to offer towing service, rental cars, and more to help your vehicle get on the path to recovery and you back to your day to day activities.
Schedule Service
We're here for you whether your vehicle's needs are as simple as a quick oil change or as complex as deep post-collision repair, so please don't hesitate to reach out to us if your vehicle needs attention. We have plenty of experience with a wide range of services, and we're eager to help you and your vehicle get back out on the road safely.
If your vehicle is due for maintenance or in need of bodywork to get it back up to full strength, feel free to schedule an appointment with our service center or collision center. We'll be more than happy to help!